Grander Magazine had the pleasure of chatting with the Mayor of Muskegon Heights, and boy, were we jazzed up by the conversation that touched on everything from the upcoming election to the city's future. The vibe of the conversation was illuminating and motivational, and we were left with plenty of brain food to chew on. The Mayor's bold vision and unwavering dedication to leadership were next-level inspiring, and we can't wait to see what lies ahead for Muskegon Heights.
By Doug D. Sims
Back in 2019, what was your motivation to run for mayor?
As a Councilman, I thought that the city was stagnant, not moving forward, and lacked a vision for progress.  I was aware of several missed key development opportunities that would have been major enhancements to the city's landscape.  I knew that I had many new and different ideas, but more importantly, we needed to begin capitalizing on developments and start partnering with those who want to do business in our community.  As Mayor, I have been committed to working with developers to see any new opportunities for completion.  I am confident that with the council's collective efforts, the city will become a hub of business and innovation, and the residents will benefit from the growth.
As you come to the close of your 1st term as Mayor, what skills, qualities, and characteristics are essential to being successful?
There are many, but first and foremost you must be an effective communicator of many things at all times.  Particularly when it comes to the good things that you're doing that will have a positive effect on the community, as well as things that might garner negative publicity.   Trumpeting your successes to the community is very important, especially with the presence of social media.  There are some people who no matter how great something is that has been done, because of their desire to become Facebook famous, will find a way to spin it and turn it into a negative piece, just for a like or in-kind comment on social media.  So, being an effective communicator of the successes that we're achieving and getting ahead of the issues that will bring negative feedback, with the correct message that we want to be conveyed to the community is why being an effective communicator is important.  The need to control the narrative, be it good or not so good is important, but very difficult when you do not have a PR department.
Additionally, you must be creative in your thinking and must be willing to take risks.  Sometimes it takes something truly unique to capture people's attention and bring them back to the city.  Our new art exhibit of the "Banding Together" drum major statue is a shining example of how taking risks on something different and creative can pay off in spades.
As I look ahead to your next term, it is clear there is much work to be done.  However, as I think about some of the changes that have happened over the last four years, your administration should be proud of the accomplishments achieved in the past four years.
I like your optimistic thinking with your thoughts on my next four years.  But despite facing numerous challenges, we were able to move the city in a new and brighter direction, and no matter who the next mayor might be, the foundation for success for Muskegon Heights is solidly laid, with a pipeline of things to come in 2024 and beyond, that will change the face of this community forever.
But to answer your question directly, yes I am extremely proud of the many accomplishments that have been achieved in my first four years.  The most important is saving Muskegon Family Care from closure.  That was an extremely hard fight because so many from within the organization,  our very own leaders; at the federal, state, and yes local levels, within our government, had given up and were willing to allow the facility to close.  I refused to allow that to happen.  I then met with Pastor Guy, and we decided to form a rally immediately, so we could get some media attention on this issue.  This was our saving grace from God.
Having that rally, despite those who were working to close the facility, is what brought forth the attention and help we needed to keep the doors to MFC open.
During my speech at the rally, it was put into my ear by Pastor Guy, the name Dan Oglesby.  I then announced that he was willing to come help our cause of saving this facility from closing, despite having never met him before.  He later became the CEO and did the necessary work of turning the facility around and putting it back on track.  Thanks to his efforts, MFC is still open today, and we owe him our gratitude.  
We have also had many other accomplishments that have made our community better and will have a lasting impact on our future.  We are replacing lead service lines in all homes, we are repaving and repairing streets, walkways, and driveways.  We have received 6,000,000 dollars for our downtown Broadway Streetscape improvements that will change the appearance of our core downtown area.  We are receiving more grant dollars than we ever have before, with our collaborative efforts working with GMED and the Community Foundation.  We recently placed our "Banding Together" art statute in Rowan Park as our center point of attraction for downtown.  We have worked with many investors redeveloping abandoned houses in the community and witnessed the first new development in 17 years in Muskegon Heights.  We have partnered and entered into a lease program with Enterprise Fleet Management where we will be able to get new vehicles for staff rotated regularly, and not have to carry the heavy maintenance costs of operating excessively old vehicles.  We placed solar panels on all our service buildings to save taxpayers' dollars, and we're doing just that.
The number one most critical issue that we face as a city is the almost $32,000,000 school debt owed to the state.
As we have worked to address this issue, with all the letters we have written to the state, face-to-face conversations held with Governor Whitmer in her home, conversations with the speaker of the house and our State Representative, Will Snyder; my position on the issue and request has been, and will continue to be complete and total debt forgiveness.  We cannot sustain the needs of this community and the school district with this debt lingering over us.  
At my most recent meeting with our state rep., Will Snyder, I was assured of something major coming down the pipeline.  It probably will be announced before you get this article to publication, but I have made our need and position known to all powers that be without wavering and it is my hope and prayer that the debt is erased.
I'm very proud of the things we have accomplished in my first term and hope to continue serving to complete the renaissance of Muskegon Heights.
It seems that you have a deep sense of pride for your community and a strong desire to improve its current state.  You possess both the fortitude and capability to lead Muskegon Heights into a brighter future.  However, the question remains, where should you start and how can you effectively lead the city forward?
One essential step is to ensure that a competent City Manager is in place, for this individual oversees the daily operations and is the manager of all employees and staff.  Additionally, having a capable council that generates innovative ideas and digs into outdated policies is crucial.  As the policy-making body, it is the council's responsibility to identify what is not working and implement necessary changes.  
Developing new revenue streams, attracting new businesses, and constructing new homes to encourage people to live, work, and play in Muskegon Heights is vital.  Notably, the current population is only a fraction of what it once was, and roughly only 46% of residents are homeowners.  Encouraging homeownership can bring a sense of pride to the community and foster a desire to keep it vibrant and thriving.  With that said, to achieve this goal, houses must be developed and capacity expanded to accommodate demand.  It is imperative to open our hearts, minds, and souls to all viable development opportunities and eliminate roadblocks impeding progress.
The position of Mayor comes with a lot of criticism, how do you handle the critics?
As someone in a position of leadership, it is no secret that I have faced my share of criticism.  However, it is important to remember to stay focused on doing what is best for the city, you need to let go of any negative criticism and keep your eyes on the prize.  If you are confident that you are doing the right thing for the community, and it is for the greater good, then nothing should discourage you or make you doubt yourself.
The progress that has been made in the last 4 years under my administration is a testament to our commitment to the city and its people.  Once re-elected, the city can be confident in my unwavering commitment to progress.   The first order of business will be to form a Charter review committee with the council to update our outdated charter.
Let me ask you this: The Muskegon Heights School Board is undergoing a transition. What can you share about moving forward with the current administration?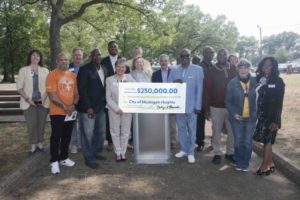 There is an elected school board and an appointed board, which can be confusing. Even though the city and the school district are separate entities, each with its governing bodies, the city has an interest in seeing a vibrant and healthy public school district. One of the first things that people look at when considering moving into a community is the status of the public schools. The school district must be worthy of a concerned parent's child attending it to encourage that parent to move their family into the community and purchase a home.
So, Mr. Mayor, I want to thank you for coming here and giving us your point of view on certain issues.  But what I want to know is, come election day, how excited are you about that day?
I'm very excited because, you know, win or lose, I am extremely proud of the things that I've led in this city, the things we've accomplished, and the foundation we have laid for whoever wins.  
The pipeline is full of great things to come in Muskegon Heights and the opportunity to make Muskegon Heights great again is within our grasp.  The activity that is happening, and that is planned is truly reflective of the renaissance taking place.  So, again in closing to this question, I'm extremely excited, because win or lose, I know my administration with the support of key council people, Mayor Pro-Tem, Ronald Jenkins, Councilman Derrick Collins, and retiring Councilman Marshall Cook have moved the city forward like never before and did some great things for the citizens.