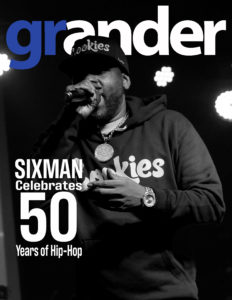 When we say "HIP", y'all say "HOP"!
August 11, 2023, was undoubtedly a historic day that, in Grand Rapids, MI, produced an unforgettable event. Sixman closed out HIP HOP 50Th Anniversary Music Fest live at top-rated venue The Pyramid Scheme, concluding a memorable night of great performances. 
The night's lineup included multiple awards-winning MC Ace Boogie, Manchild, LoudChief, Nyla, Zero, Gwopped Up Speedy, Alfie Da Great, Huff the Goat, WUZEE, Sonny Ski, D.E.S., Sha Dow, Adrian Wright, DJ Ill One, DJ Kapp, DJ Seven Eightz, and DJ Kokn, with industry star MR. 1204 hosting and performing.
Grander Media was there capturing the Fest in its entirety.
With potential to produce some incredible post-event content and art, Grander founder and photographer Doug Sims offered up these photos as a preview of what could be in the works. The marquee pic features (from R to L), DJ Monk Mattheaus, Gwopped Up Speedy, Ace Boogie, Sonny Ski, Moe McCoy, and Alfie Da Great, with Sixman in the middle. – Written by THISENT.com for Grander