February of 2023 Black Wallstreet Grand Rapids Co Founder & President Preston Sain Humbly took home the Newsmaker of the Year Award for Economic Development from the renowned Grand Rapids Business Journal for the efforts and impact of Black Wallstreet Grand Rapids.
Since the 2020 inception and Launch of Black Wallstreet Grand Rapids, the process has been lengthy yet supportive and celebratory.
The BWSGR team and project has spent the past year solidifying its infrastructure and process.
June of 2022 the 501c3 Fiduciary Partner AQUME Foundation was contracted and announced.
September of 2022 the architecture team Pure Architects was contracted and designed the 3D Renderings of BWSGR 's Flagship target District Eastern & Burton which was released and published by the news media.
In December of 2022 the initial Construction team of the BWSGR project was announced ( Black Lake Construction, Cella Building Company (Formerly known as Bazzani) Pride Builders Group, Custer Inc with more additional construction teams to be added to build out the 8 total BWSGR Districts in Grand Rapids Michigan over the next 16 years.
Cella Building Company will lead as General Contractor & specializes in building Sustainable buildings which meets the goals of the BWSGR project.
In February of 2023 the BWSGR project also became a official member of the Grand Rapids Climate Coalition as its goal is to be a Trailblazer in influencing climate health in West Michigan and abroad.
The BWSGR has seen tremendous support from its city Mayor, City Manager, City & County Commissioners, City Economic Development Department, grassroots community, corporate sector & the masses of mainstream news media.
Next there will be recruitment and additions of professional Fundraisers and professionals in Affordable Housing being adding to the team behind the BWSGR project Development.
These additions will take place ahead of the planned late May early June 2023 Capital Campaign Fundraising event in honor of the 102 year anniversary of Black Wallstreet Greenwood Tulsa Oklahoma.
Choice One Bank was the 1st Sponsor contributor in the History of the BWSGR project development.
The City of Grand Rapids is also in the process of curating and indoctrinating its latest Masterplan for the next 20 years in which the city has diversity and equity goals this time around.
The BWSGR team plans to make property and land Acquisitions & start construction on Flagship District late Summer 2023 amid city planning commission continued support, further engagement and approvals as well as its capital campaign progress.
But now there is something new on the arise,
Preston Sain has expanded the vision of BWSGR nationwide & Globally with the launch of Black Wallstreet USA Ambassadors.
The goal is to turn every "Ghetto" or poverty stricken Black neighborhood in America & Globally into thriving Black Wallstreet Districts of Excellence welcoming to all races to enjoy & patronize.
Sain said we must now truly embrace integration in the USA, learn to build, live & win together in harmony. Anything opposite flirts w/ potential civil confrontation which is counterproductive to prosperity for all.
Sain said there has been multiple efforts to rebuild Black Wallstreet Districts across America even before Grand Rapids Michigan…however the efforts mostly revolve around APPS, websites and Directory's promoting Black owned businesses and entrepreneurs.
While Sain admires and salutes those efforts he implies the real crisis, transformation and wealth opportunities is in the real estate, the business districts, housing, and construction, Similar to Chinatowns in the USA, every city needs a Black a wallstreet.
Sain is also intentional about the need to work collaboratively and diverse with all races to invest & build these Districts across the State of Michigan and ultimately simultaneously across America & Globally.
Sain said he will connect with the best of the best Black Entrepreneurs, Real Estate developers & investors across the USA as well as all races to bring this collective vision into manifestation and ultimately launch a multi Billion dollar global capital campaign inside a versatile capital stack for BWSUSAA investments.
Sain said Virtual meetings will be a instrumental tool used to connect and conduct meetings with Coalition members across the country & Globally in addition to traveling when neccessary.
Sain said Building Black Wallstreet Districts across America is a solution to poverty, quality of life, crime reduction, Gentrification, Equity and Wealth Building with inclusivity.
Black Wallstreet USA Ambassadors mission statement says it is a
National/Diverse Coalition to Advocate, Architect, Invest,
Develop & Construct Black Wall ST Districts in Urban Communities across the USA/Global.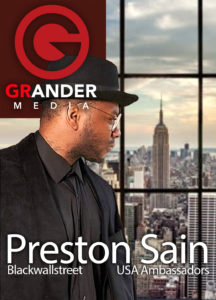 To learn more or to connect:
Follow Black Wallstreet USA Ambassadors
on Facebook, Instagram, Twitter & LinkedIn