Chris Dudley – Using His Creativity to Highlight Representation in Stress-Free Imagery and Storytelling
by Shanika P. Carter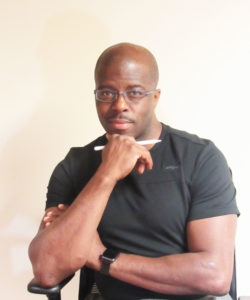 Chris Dudley, known as "Dud" to some, jokes that his nickname doesn't refer to a "firecracker that didn't go off," but after speaking with the Grand Rapids native about his 25-year professional journey, it seems to be the exact opposite – Dudley's art career has been making some noise and taking off in all directions.
As the Creative Director of Chris Dudley Art, Dudley is known for his illustrations, but he has dabbled in drawing, digital illustration and art, painting, as well as writing. Mostly a self-taught creative, his childhood was his introduction to his love for art.
Dudley was first drawn to art when he was a student at Madison Park Elementary School and had a piece chosen for an art exhibition at Grand Rapids Art Museum. That experience, he says, was mind blowing. "That just planted that seed. When I saw what the other grade levels were doing, it didn't discourage me; it made me want to get better. So that kind of sparked it right there."
Dudley worked on improving his talent until he finally landed his first project as a teenager – decorating overalls, which became popular in the early 90s. He says it was 1991 when he used permanent marker to draw the likeness of athletes Michael Jordan and Dee Brown on the pant legs of his first client.
Starting his business under Dudley Graphics, he added other forms of art in various mediums to his credentials, including drawing with pencil and digital illustrations, which has been demonstrated in his children's book illustration projects.
Having worked in digital art for over the past 10 years, Dudley started with an iPad to develop his digital talents, but it was an injury to his Achilles that had him laid up at home for months and gave him the time to further develop his skills. "During that time, I played around more and more to understand the layers," he explains, adding that doing a sketch for a friend led to a request to do the illustrations for a book. "It went up from there."
One key project where his style of artwork can be seen is in "Guess What I Can Be?" by author Marcel C. Gamble which was published in 2020. Dudley explains that as he read the manuscript for the project, images began to pop into his head for the various career paths described in the children's book, which included the images of hip hop and breakdancing.
From his vision of breakdancing for that project, it took about a year or two before the book caught the attention of well-known figures in the industry, including dancer Michael "Boogaloo Shrimp" Chambers, known for the movies "Breakin'" and "Breakin' 2: Electric Boogaloo." Dudley says that he started discussing ideas with Chambers about incorporating breakdancing as the focus of a book.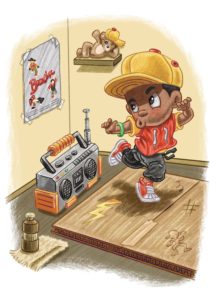 This led to Dudley writing the book "Little Boogaloo Shrimp and the Clean Sweep," which has been receiving much interest. Dudley says that Chambers is already being booked for conventions as people await the release of the book. He adds that this type of attention could be world-wide, considering how the art of breakdancing continues to grow and remain a part of international culture and interest.
During the COVID pandemic, Dudley was busy illustrating and authoring books, a role he has enjoyed taking on due to the control that authors tend to have over their projects. "You control the creative processing," he says, adding that as an illustrator he still has some freedom to create as he pleases with his clientele. "They've given me a lot of creative freedom but to totally control everything is nice."
One of these writing projects includes the "Duddle's" series, children's books that adults can identify with, that are based on life lessons that he has personally learned resonates with people. His creativity has also evolved into painting, something that he started experimenting with but then eventually got hired to do for a company. Dudley says that his practice of learning to paint, upon studying photos, resulted in over 150 photos that he produced in the past year.
Then there are the big projects that Dudley and his team at Chris Dudley Art have keeping them busy this year. They are currently working with Grand Rapids Public Schools on a project which will be revealed on October 21, 2022. He also shared that a few of his clients were finalists in Start Garden, where start-ups competed for $20K in start-up funding. In addition, you can catch a glimpse of his artistry in local spaces around Grand Rapids, including the Grand Rapids African American Museum and Archives.
When considering the type of projects that Dudley and his team take on, he stresses that images and ideas must come into his mind as he discusses or reviews the manuscripts or plans of a potential project; if they don't, he will not take on the project. "We don't just take a manuscript – we have to fall in love with it. I love working with authors with a great story and idea, but they have to have a vehicle."
Often, these meetings are educational for potential clients as they review and discuss what needs to be accomplished. According to Dudley, they consider the industry, how things need to look for marketing, and every possible use for a logo that is designed by his team. To have more time to focus on the creative side of the business, Dudley has brought on an admin to assist with clients and other aspects of the business. He also has a division that handles graphic design, which he describes as "a whole other art form."
For others with the desire to work in art professionally, Dudley admits that learning the art of drawing can be hard, as it was for him. He explains that even with the natural talent that one may have, the work must be put in to be hired for their ability. "Your style naturally develops over the years," says Dudley, adding that he didn't even know he had a style until one of his relatives was able to spot one of his pieces based off this style. In developing his style, Dudley's "toolbox" of must-haves includes an iPad, an Apple Pencil, and Procreate – all handy "tools" that he can use to create while he's traveling, as he often does.
As schools continue to lose funding for such electives as art, Dudley, who has also provided private tutoring, feels that an emphasis on art in the classrooms should be encouraged just as much as any other subject, something that he says should be enforced during the many years in school – the same as reading and math.
The father of three daughters, including one who has her own publishing company, Dudley loves creating every day, stress-free imagery, such as a child flying a kite or playing outside, for instance. Representation and diversity are also important to him. "There is a lot lacking," he says. "When I was young, you didn't see a lot of brown kids in books. So, it was cool drawing characters that look like me."
For more information on Chris Dudley Art, check out: www.chrisdudleyart.com and @chrisdudleyart on Instagram.