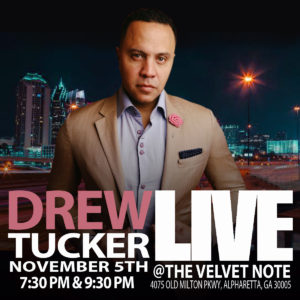 Drew Tucker is a musician, educator and social entrepreneur – a unique combination that place him at the intersection of the arts and activism.
Artistically, he's at the forefront of the movement to reinvent the vibraphone – a dynamic instrument that he melds with soul, funk, jazz and hip-hop influences. His jazz influenced twists on modern-day standards from Michael Jackson, to Prince and The Police, have earned him key endorsements from Mike Balter, Malletech and Sabian Cymbals – and the applause of soldout audiences nationwide.
The passion he brings to the stage is also present in his classroom. Drew's one of the most sought after educators in mallet education, which he led to him being a top front ensemble coach in Florida. He's proud to note that 100% of his students have gone on to succeed in art school and university auditions. 
As a community activist and Cultural Arts Director at Redevelopment Management Associates (RMA) , he's driven to revitalize areas of Florida through the creation of arts centers in underserved neighborhoods. Through his leadership and musicianship, he strives to not only raise spirits, but set an example of excellence and open opportunities for students, families and communities to realize their potential.
Whether performing alongside Grammy winners as a world-class vibraphonist, coaching eager high school students through national music competitions, or leading and directing the growth of local arts institutions, Drew's passion for improving people's lives through artistic endeavor is unwavering.