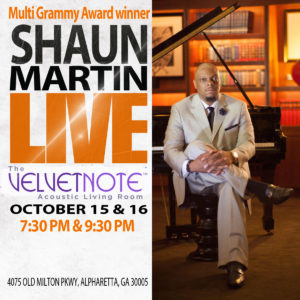 Multiple Grammy Award winner Shaun Martin is well known for his work with Kirk Franklin and as a key member of Snarky Puppy, his creative stamp can be heard on projects with musical legends Chaka Khan, Erykah Badu, Fred Hammond, Tamela Mann, Kim Burrell, God's Property, and more.
In 2015 Martin unveiled his debut album – 7Summers – to widespread acclaim, following up with a more succinct album of his Jazz piano work – Focus. His next album, Three-O, is scheduled for release on November 13, 2020, and features the tight but explosive combination of Martin on keys, Matt Ramsey (Kirk Franklin) on Bass, and Mike Mitchell (Stanley Clarke, Spirit Fingers) on Drums. Three world class players with a wide variety of performance experience and musical knowledge, three friends who share a vibrant excitement for music and the world.
'Three-O stretches more to the  synthesized, creative side, but still keeps the fundamentals of the traditional trio with thumping bass lines and powerful drumming to compliment' (Shaun Martin)
A native of Dallas, Texas, Shaun Martin's  prodigious gift was noticed and nurtured at an early age; he began playing the drums and piano at the age of four. His mother placed him under the tutelage of Carolyn Campbell, who taught him to read and write music. By the age of five he was playing the piano and organ at church. 
The supportive and musically rich Dallas community continued to nurture him, and he it – he joined God's Property in 1993, leading to a Grammy and a long time working relationship with Kirk Franklin. As a music major at the University of North Texas, he joined fellow students in the 'soon' to be award winning, chart topping jazz fusion band Snarky Puppy, joining them on the road and in the studio as they forged a new independent path to success. 
In constant demand, Shaun is currently working on multiple projects with his long term goal of creating a fine arts academy to continue the circle of musical nourishment that thrives on the Dallas scene. 
Artists: Kirk Franklin, Snarky Puppy, Erykah Badu, Chaka Kahn, Fred Hammond, God's Property, Kim Burrell, Yolanda Adams, Timbaland, The Weeknd, Tamela Mann…
Grammy Awards: Best Contemporary R&B Gospel Album (Hero) Best Gospel Album (Hello Fear) Best Contemporary R&B Gospel Album (Fight Of My Life) Best R & B Performance (Snarky Puppy & Lalah Hathaway)
Production Credits: Mama's Gun (Erykah Badu) Guru's Jazzamatazz Streetsoul (Erykah Badu, Guru) Hero (Kirk Franklin) Fight Of My Life (Kirk Franklin) Hello Fear (Kirk Franklin) Here Right Now (Tasha Page- Lockhart) Fast Forward (The Walls Group) I Will Trust (Fred Hammond) United Tenors- (Fred Hammond, Dave Hollister, Eric Roberson, Bryan Courtney-Wilson)  Take Me To The King (Tamela Mann)