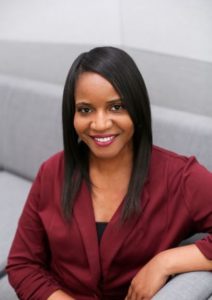 By Shanika P. Carter – 
Tracee Bruce's passion for black history was instilled in her as early as age three when her dad would educate her and her two sisters about their family history. This was such a regular occurrence and part of her upbringing that Bruce is surprised to learn how many of her peers have not been informed of their own history.
"It's still amazing to me when I speak to other black people and how much they didn't know," she shares. "I knew a lot about my family history growing up." As a teenager raised in a predominantly black community, her love for talking about history, politics, and family kicked in even more. 
Born and raised in Muskegon Heights, Michigan, Bruce's family history includes a connection to Bruce's Beach, an African American beach resort in Manhattan Beach, California. After a 100-year battle, Bruce's Beach represents the first record of land being returned to a black family after being taken away. In 2018, Bruce witnessed an apology from the city council and mayor while visiting the landmark for a family reunion.
This historical moment, as well as further education about her history, combined with learning how many were not knowledgeable of their own history, Bruce was ready to share and make a difference; the black pride and understanding of how black people have overcome was something she felt was needed, particularly during these tumultuous times. 
It was the 2020 election that motivated her to write her book, Systems That Shape(d) Black America: 40 Mini Lessons Outlining Defining Moments from Slavery to Modern Day. "I was horrified by what I was seeing," Bruce explains in reference to the negativity of Black America on social media and those who chose not to vote.
Seeing the power in voting and its correlation to setting back the conditions of Black Americans, Bruce began a series of flashcards on these defining moments in history. During that time, Bruce, an alumni fellow of the CEO Action for Racial Equity Fellowship, was also selected through her employer, MillerKnoll, Inc. (formerly Herman Miller) to work with other business professionals on racial equity issues – over 250 fellows chosen from over 100 companies – as a result of the death of George Floyd.
Over the past two years of being an active fellow, Bruce was involved in making changes to federal and state laws and working on policies internally and within different corporations. One of her biggest contributions was pitching the idea to make racism a public health crisis, which was selected out of 400 ideas to become one of the eight pillars of focus. Through this work, Bruce had the opportunity to work with organizations across the country on legislation and making an impact on communities.
Due to the knowledge and insight that was further gained, Bruce's flashcards developed into enough information to become a book. "I was taught by so many experts, lawmakers, and business leaders," says the Grand Valley State University alumni, who earned her bachelor's degree in business administration with a concentration in marketing. Bruce adds that researching and preparing this book was like a crash course in furthering her studies.
A member of Zeta Phi Beta Sorority, Incorporated, Bruce's community work has intertwined with her professional background, which began with a marketing role in West Michigan after her college graduation. A few years later, she moved to Atlanta, where she spent 12 years, and worked in corporate marketing for Starbucks and as a project manager at the Center for Disease Control (CDC). It was when she moved back to West Michigan to be closer to family that she worked briefly with a nonprofit in racial equity and childhood issues before beginning her career with Herman Miller.
As a senior programs manager, Bruce is working with the largest healthcare accounts to help build clinics across the country, taking the racial equity lens into this role to "make sure the spaces we are developing is very comfortable for minority communities." She also continues her racial equity focus with her book and speaking engagements.
Since the release of her book, she says the response has been positive and informative for many. Bruce has been a featured speaker at various summits on racial equity, and she shares that when she starts her talks with the African American timeline, many comprehend and gain a better understanding of how long slavery and Jim Crow lasted and impacted so many lives.
"I wanted Black Americans to know all this different history and how amazing our ancestors are to overcome as much as they have and how we have the same blood running through our veins."
Bruce is also hoping that her book will be picked up in school curriculum for public and charter schools. As represented by her book's cover, which is a rendition of a black Statue of Liberty holding chains in her hand and crying, Bruce reminds readers that "we're still fighting, and it's been a painful journey."
For more information about Bruce and Systems That Shape(d) Black America: 40 Mini Lessons Outlining Defining Moments from Slavery to Modern Day, visit www.theetnb.com.