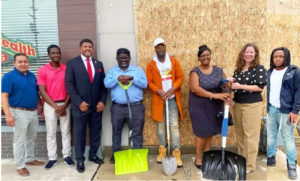 In honor of the Black August Holiday Month & Black Philanthropy Month, Co Founders of Black Wallstreet Grand Rapids gathered with members City Hall & Community Stakeholders for the official GroundBreaking of the Black Wallstreet Grand Rapids Headquarters & Event Center. 
BWSGR Co Founder & President Preston Sain was joined by Urban League President Eric Brown, City of Grand Rapids Economic Development Director Jeremiah Gracia & Jordan Turner, Assistant to City Manager Asante Cain, newly appointed Deputy City Manager Mary Kate Berens, City Hall Assistant April Moayyer and President of AQUME Foundation Ciarra Adkins. 
After pouring down rain the group gathered Wednesday afternoon in brief sunlight at 1956 Eastern. The BWSGR address is currently owned by 1 of BWSGR Co Founders Mary Malone in addition to Burton Village BBQ also owned by the Malone Family of BWSGR.
BWSGR core Co Founders consist of local 3rd Ward Entrepreneurs Tahj Gillespie ( Co Founder of Generation Wealthy, Sian Gillespie Operator of family owned Gillespie Funeral Services, Michael Buxton Owner Franchiser of Load A Spud, Dalshawn Tyler owner of Elegance Auto Detailing, Victor Williams President of Boston Square Neighborhood Association, Synia Gant-Jordan owner of Samari J Salon & Team member of Legacy Homes GR, Rodney Brown Grand Rapids Public Schools Admin & Educator.
Black Wallstreet Grand Rapids is inspired by the Wealthiest Black Community in American History Greenwood Tulsa Oklahoma from the early 1900s coined by Booker T Washington as Negro Wallstreet also known as Black Wallstreet. 
Greenwood from 1905 -1921 is documented at 35 blocks with over 600 Black owned businesses and homes before the unfortunate Massacre in 1921.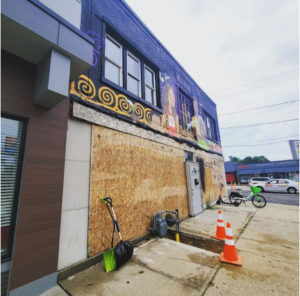 The BWSGR project development spans over 7 Southeast side 3rd ward Districts (Burton & Eastern, Oakdale, Madison Square, Madison & Hall, Boston Square, Neland- MLK , MLK- Eastern & 1 first ward district on a small strip on Grandville Avenue a original and early settling location of black and brown natives in Grand Rapids early History.
Sain said the BWSGR development is a solid alternative to gentrification in a way that includes homegrown community members and makes a pathway for equity, ownership and Generational Wealth Opportunities. 
Sain said the location of their Headquarters on their Flagship BWSGR District (Burton Eastern) is perfect.
 The Headquarters and Flagship District is 90 seconds away (by car) from the adorable & neighborhood friendly Business District Gem of Alger Heights.
Sain also said BWSGR Headquarters will be located on the same block as the oldest Black owned News media company in West Michigan the Grand Rapids Times, & both Grand Rapids Area Black Businesses & Urban League Headquarters just miles apart on the same street (Eastern Avenue)
The opportunity to mobilize and strengthen the ecosystem of the Black and Brown community is exciting and will provide resources, support & oversight in the 3rd ward in addition to a Standard of Excellence said Sain.
Improving the quality of life & environment, police and community relations, creating safer communities, creating jobs, building economic wealth for Blacks and the overall Grand Rapids Economy as well as promoting cultural tourism are all primary goals of BWSGR. 
The BWSGR development aims to help complete Grand Rapids City infrastructure and trend the city towards a Worldclass Diverse & inclusive city of the Midwest. 
June of 2022 marked the launch of BWSGR private sector Capital Campaign with announcement of BWSGR 501c3 Fiduciary partner selection the AQUME Foundation.
BWSGR development since its 2020 launch has had support of Third Ward Commissioners Senita Lenear & Nathaniel Moody as well as Mayor Rosalynn Bliss, & City Manager Mark Washington who sent city staff to the GroundBreaking event on behalf of City Hall.
Kent County Commissioners Robert S Womack, Monica Sparks, Kentwood Commissioner Clarkston Morgan, Wyoming Chamber of Commerce President Keith Morgan has all supported and or attended BWSGR events in solidarity of the vision & development.
The BWSGR development will be a public-private collective effort. 
To learn more about the BWSGR development follow Black Wallstreet Grand Rapids on Facebook, Instagram & Twitter. 
To engage or make a tax deductible corporate pledge to the Development Capital Campaign,contact BWSGR through social media contact info & AQUME Foundation at www.aqumefoundation.org