By Shanika P. Carter

Reconsidering her career path, Nichols-Woods applied for a job with MOKA, considered the largest and oldest nonprofit for disabilities in Muskegon, where she spent eight years gaining supervisory experience. After her time at MOKA, Nichols-Woods worked in case management for four years at HealthWest, until Thorn"We Do Life" – this is the inscription that D'Erika Nichols-Woods, Kaja Thornton-Hunter, and Jeff Walker share, not only in matching tattoos but also working together as friends and business partners. Thornton-Hunter has been in the spotlight for a multitude of ventures, including the recent opening of the Barney Maffett Place and Business Café and Kaja's Flavor Packs, but Nichols-Woods and Walker are a part of that team, her right and her left hands, as she has described them, in bringing all of this, including Overcoming Barriers, Inc., and more, to fruition in the Muskegon Heights community.
As Nichols-Woods describes it, her and Thornton-Hunter have gone through several relationship dynamics with Thornton-Hunter serving as her soror and line sister (of Delta Sigma Theta Sorority Inc.), best friend, and now boss. Nichols-Woods, who originally hails from Baldwin, Michigan, agrees that Thornton-Hunter's position regarding the three of them falls in the middle, with her and Walker falling on each side of Thornton-Hunter. "All of our expertise and what we know, it meshes. That's what makes us work as an entity." 
They have switched places personally in "doing life", taking on the right and left positions through one another's personal life experiences, including surgeries and medical emergencies, such as supporting and serving as Walker's emergency contacts when he had a stroke back in 2019. Taking a line from one of his friends, Walker, born and raised in Muskegon Heights, says this about his relationship with the ladies: "I'm rolling until the wheels off and then I'm getting some new ones put back on and rolling again!"
Nichols-Woods, upon moving to Muskegon from Baldwin in 2002 to continue her education, became acquainted with Thornton-Hunter as her neighbor. Nichols-Woods already considered Muskegon a second home, with her father having been born and raised in the area. Enrolled in a teacher prep program at Baker College, Nichols-Woods wanted to become an English teacher, but took on an internship working with people with disabilities, where she discovered she had a love for working with that population.
Thorton-Hunter sought her out for Overcoming Barriers.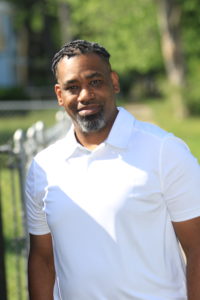 Thornton-Hunter also sought out Walker, a long-time friend, in the spring of 2017. Walker went straight into the workforce after graduating from Muskegon Heights Senior High School, attending community college for a brief time but realizing that it wasn't for him. Walker's mom was an elementary school teacher, so he considered taking a similar path in working with children. After working for the Child Abuse Council, Wesley School, and then Boys and Girls Club over several years, he realized that working with youth was not his calling.
Walker was hesitant to accept Thornton-Hunter's offer for a couple of reasons. He felt that he did not have the background and expertise that both she and Nichols-Woods shared from working more extensively with those with disabilities. In addition, he had concerns about work interfering with the friendship he had with both ladies, a concern that Nichols-Woods also expressed.
Thornton-Hunter had brought Nichols-Woods and Walker together previously because of their love for poetry and the spoken word. Both say that it was an instant "brother and sister relationship from first sight" with Nichols-Woods adding that Walker reminded her of her own three brothers wrapped up into one person.
Both Nichols-Woods and Walker say that Thornton-Hunter allowed them sufficient time to decide on joining her. After prayer and reflection on their situations at the time, both decided to follow the signs directing their paths and join Thornton-Hunter in business. Walker joined her in 2017 and Nichols-Woods joined her in 2018.
Walker specialized in working in the adult foster care (AFC) group home, where he said it was a good fit for him working with those with the "innocence of a child's spirit". Nichols-Woods had previous experience in creating curriculum, an area where she excelled in while at MOKA, creating a curriculum that was used in four counties. Thornton-Hunter wanted her to utilize these skills in developing a skill-building program.
"Seeing her build an organization from the ground up and to be a part of that development has been an eye opener and just really fun," explains Nichols-Woods, adding that Overcoming Barriers is the first African-American nonprofit organization in Muskegon County that works with those with disabilities. They all emphasize that the relationships developed with their clients are as if they are all one big family; this comes from working out in the field and getting to know everyone as more than just clients.
Both Walker and Nichols-Woods have taken on so much more working together with Thornton-Hunter, with room to work hands-on in creating more opportunities for themselves and those who come into the Barney Maffett Place for assistance and services.
Overcoming Barriers serves as the main hub in the Barney Maffett Place, housing D'Risen Productions LLC, Sincere Solutions, Kaja's Favor Packs, and the café. According to all three, this came together organically from the moment the building was acquired, with them feeling as if the environment fit them perfectly to bring out their talents and gifts.
For Nichols-Woods, this entailed getting back into writing again, which D'Risen Productions is a production company with a focus on writing and producing plays for the community, informercials for small businesses, video editing, television show production, and a possible return to poetry, from which Nichols-Woods retired back in 2018 after an eight-year run as one of six cofounders of a local poetry group. D'Risen Productions is also home of the Grammi Life podcast; Nichols-Woods is the mother of two daughters, two stepsons, and a combination of seven grandchildren with her wife.
For Walker, the father of two sons, his focus has been on dealing with trauma. After healing from his stroke experience, he wanted to assist men, particularly those of color, with dealing with breaking down the layers that tend to come up in relation to dealing with traumatic experiences. Men of Recovery Evolving (MORE) was born from Walker's experience, in which he admits he still has his inner struggles from surviving that trauma. Sincere Solutions serves as the umbrella in utilizing his certifications and expertise in providing solutions for those with mental health issues, suicidal thoughts and tendencies, substance abuse trauma, and other areas of conflict. 
Another endeavor of the trio includes the Jump High Academy, which is an outlet used to assist those interested in starting their own businesses. The group has partnered with the GVSU Innovation Hub to make Barney Maffett an additional hub-stop to offer similar professional services to those who may not want to go downtown for assistance. In addition, Tidbit Tuesdays on Facebook Live every Tuesday at 12:30 pm continues offering advice and tips that come from open conversations on a variety of topics.
"You never know who you impact," says Nichols-Woods about the platforms that they have available at Barney Maffett Place. "I look at it as if God blesses you with a platform, I want to use it in a positive manner and give words of encouragement."
Thornton-Hunter considers the space an "urban Starbucks" for the community, providing people a place to be productive, take care of business, have meetings, and just come together while enjoying coffee creations from their barista, Kelvin Webb, and the grab-and-go food selections that have been donated to the shop.
"If you are tired of seeing your own four walls, come down here, grab a cup of coffee, absorb some of this good energy, sign out a booth, and work from here," says Walker.
As far as their continued friendship, they agree that their friendship has grown even stronger while partnering up to work and grow in business. Walker wraps it up best: "Friendships and businesses can work; it's all in how you apply it."
The Barney Maffett Place and Business Café is located at 2300 Maffett Street, Muskegon Heights, MI 49444
Overcoming Barriers Inc: https://www.overcomingbarriersinc.com/