The new service offers career support to local residents including those impacted by COVID-19.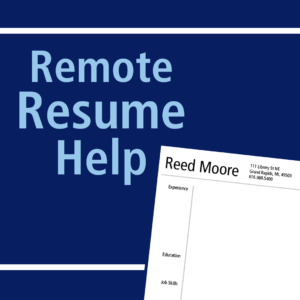 Grand Rapids, MI, September 16, 2020 – The Grand Rapids Public Library (GRPL) has implemented Remote Resume Help as part of their career support services. Kent County residents can now upload their resume to the library's online form and receive feedback from trained library staff.
"Job-seeking is difficult when there's not a worldwide pandemic," said Steven Assarian, GRPL's Business and Career Librarian. "It makes us vulnerable, and it's a process that's difficult to navigate well. That's why we created our Remote Resume Review service. We want to ensure our patrons get the help they need, especially those who've been impacted by COVID-19. With this service, we can help our patrons put their best foot forward and be primed for success while staying safe and healthy."
GRPL's remote resume service offers support that is tailored to each patron's needs. Resume review includes feedback on format, design, recommendations on what to include, copy editing, and more.
In addition to this service, the library's Small Business Resource Center (SBRC) offers 1:1 career consultations with staff. Patrons can schedule an appointment with Assarian to fine-tune their job seeking process, prepare for future interviews, identify strengths, or work on effective business plans.
Assarian continued, "The Small Business Resource Center is just one way your library helps entrepreneurs, nonprofits, and jobseekers get the information they need to be successful. Through our suite of SBRC services and resources, The Grand Rapids Public Library continues to be in your corner, helping you ask the important questions to help you through your journey, wherever it may lead."
To learn more about GRPL's Remote Resume service and Small Business Resource Center, visit www.grpl.org/sbrc , call 616.988.5400 or contact the Business Librarian for general questions.
The Grand Rapids Public Library inspires opportunity, connection, and innovation. Funding for the Small Business Resource Center is provided by the Grand Rapids Public Library Foundation: Tiche Family Fund.