Hip-hop artist and entrepreneur Moe McCoy is enjoying the adventures his hard work has provided. Dedicating himself to self-improvement paved the way for his career in media and recording artistry.
A graduate of Ottawa Hills High School, the Grand Rapids native attended Grand Rapids Community College to further his business and music knowledge. He applied what he learned during his time with radio station 1680 AM and as a member of famed rap crew Happy Head Assassins.
MCCoy's career adventures ascended to a new level when he met fellow rhymer Javin Love, as the two formed hip-hop duo Fireproof. Along with their acclaimed music, together they wrote, filmed and released independent film '2morrows Never Promised' which historically debuted at Studio 28.
Moe McCoy shares how the movie and Fireproof came to be in Part 1 of our sit-down interview with him.
Grander: Moe, you've put in work in Grand Rapids. How did you get your start with 1680 AM?
Moe McCoy: I would always volunteer to work at the radio station. First, I started off as an intern. My job was to turn on Tom Joyner at 6am. I would get there at 10pm to close up for DJ Brown Hornet and then they just let me have my show on the radio all night as long as I turned on Tom Joyner in the morning!
Grander: What did you learn while you were there?
Moe McCoy: I learned a lot about radio while I was there, about Top 40 music and hip-hop and Tom Joyner. I was just really inspired but I was a rapper. It came to a point where my music started taking off more than the radio. The program director made me choose between either radio or rap. And I really was taking advantage of the platform. It was very noticeable. Record executives would come up there all the time. That's how we got the first deal with KJ Records because they walked into the radio station.
Grander: It was a lot of radio personalities that rapped. You had Angie Martinez. Ludacris started in radio. What made your program director say you had to choose one or the other?
Moe McCoy: I just think he was a hater! [Laughs] I was getting a lot of attention. The Nappy Head Assassins, we were the biggest rap crew in Grand Rapids. We was getting shows and we were traveling, then KJ Records came in and wanted to sign us. I was doing all the commercials. I did Brown Hornets intro and that played forever and ever. It came to the point where he just couldn't handle me being into rap. They didn't want us to blow up or nothing like that.
Grander: Was the rap portion interfering with your job?
Moe McCoy: Not that I was concerned. I thought I was really good at radio, you know what I mean? I played the music how they did the playlist. And I had a lot of listeners calling in. So, yeah.
Grander: How did your group Fireproof and Fireproof TV get started?
Moe McCoy: While we was on tour I signed a young man named Javin Love. He was very, very talented. Right when I signed him he got hit by a semitruck. A semitruck ran him over and he was caught in a raid, but they let him go, you know what I mean? At that time, I was making Gospel Hip-hop music because a pastor asked me to do the music. And I did it and they liked it! I started getting booked at churches everywhere. I got booked at Young Life. That's where I met young artists like J Love and Wyatt. There were young people that were at Young Life that are popping rappers right now, especially in the Gospel Hip-hop industry. I started touring, and me and Javin would get 100 CDs printed each. My project, his project.
Grander: Okay, gotcha.
Moe McCoy: We got booked at Calvary Christian Center in Sacramento. We performed and there was 5,000 people there. People thought we was a group everywhere we went. Side note: that show, we sold all hundred CDs each and then the pastor passed a garbage bag around the whole church! They put a donation in there for us! They sent us home. We had the money from what we sold and then we had the garbage bag. They put us in a hotel and we poured all the money out on the bed. We thought we made it! We was throwing it up in the air because we was so excited! From that point we had to figure out it was the best idea to be a group because we was having to make double the CDs when we could put it all on one.
Grander: Ahh … Okay! So, tell us how you got the name Fireproof?
Moe McCoy: We went through thousands of names! One of the names we looked up was Living Legends, you know what I mean? When I did a Google search on that, it just was a lot of people popping up. So, we're thinking, "What explains both of us at the same time with one word?" And, so, we went through thousands of words and kept coming back to the name Fireproof. And we derived that from a Bible story about Shadrach, Meshach and Abednego. They were put in the oven but they weren't burned, you know what I mean? I felt like we was going though a lot when we was touring. We was going through the things like Murphy's Law. The car would break down. That money you just made? It costs the same amount to fix it! [Laughs]
Grander: Definitely, defiantly understand! [Laughs]
Moe McCoy: But we kept going. That was the thing. I felt like we were fireproof. We started that as a group, then we got signed with a booking company. They told us we had to have a LLC. Since with the Nappy Heads I always had a camera with me. I always volunteered at GRTV so I could capture what was going on because I didn't think people would believe me of the things that was happening! You know what I mean? On the day to day grind of an entrepreneur, an artist. So, once we got signed we named it Fireproof Music LLC. So, I said while I'm here I might as well make Fireproof TV! Because I'm filming everything we're doing.
Grander: Right! Exactly.
Moe McCoy: So that was the birth of Fireproof TV. And our first project with Fireproof TV was the movie '2morrows Never Promised'. That was written by J Love and produced by me. We shot it in Grand Rapids in 3 days.
Grander: Three days?
Moe McCoy: Three days! We didn't know nothing about the movie industry whatsoever. I just had experience with the camera. We shot what he wrote, and it took us 3 days. We bartered with different companies like Pfeiffer Lincoln. Shout out Howard out there. He let us take the cars and put them in the videos and in the movies! So, we had the latest vehicles in our movie. That gave us a little bit of value, you know what I mean? I just went though all my contacts. Since I was a kid I just loved meeting people. And I just met a lot of people, so I just had to think about my resources and the people I've met. I got everything we needed for a movie! [Laughs] You know what I mean?
Grander: How did you get '2morrows Never Promised' to premier at Studio 28?
So, I had a connect at Celebration Cinema. They said come in for a meeting. Let us know what your idea is. I filmed the movie, we edited it … We did the best we could. We put in some work on it! [Laughs] We was workaholics, like, literally. We would work all day on just trying to move the ball forward on our business and say, "What can we do to make it better?" So, that's the approach we took making the film. So, we made a trailer and the movie. We took it to Celebration Cinema, there was a round table and there was White people everywhere! [Laughs] And it was us. We just came in and said, "We want to have a movie premier, red carpet like Hollywood style. And we're going to play this movie." Then I played the trailer! [Laughs] After it got done, they stood up and they clapped!
Grander: Serious? Okay!
Moe McCoy: And they was like, "We propose a 50/50 deal. We'll provide you the theater and everything, and you sell the tickets. Let's do it!" I was like, wow. And they was like, "Great presentation!" And I was like, "What? That wasn't no presentation!" [Laughs]
Grander: [Laughs]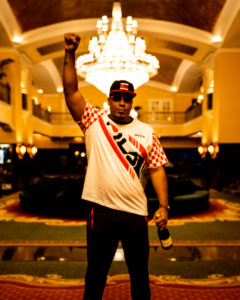 Moe McCoy: I was so young I didn't know that was a chance to do a presentation! I didn't feel like I was giving a true presentation because I like to do things big. I like big posters. I like big screens. After that we picked the same date that Will Smith's 'I Am Legend' movie came out. People was telling me don't do the movie. Will Smith is going to kill you. And I got Theater #1 – 800 seats.
So, I'm just looking at it as a business. I can get 800 people to watch something one time. You know what I'm saying? Despite what everybody said to me, we just kept pushing through. We set it up. We sold tickets. I was doing marketing for Chris Howard. He would throw parties. And Danny White, he'd throw parties. And that mug would be packed wherever they go! So, I had they endorsement. I knew I could do the tickets. They was pushing it. They brought all their cars out. They got us a limo, you know what I'm saying? They really gave us that Hollywood feel.
Grander: How did it fair with the 800 seats?
Moe McCoy: We sold all the tickets!  When we pulled up …  It was overwhelming! We'd never even seen an audience like that! It was really like Hollywood in Grand Rapids! We was at Studio 28, the red carpet was all the way through the foyer, it was people on both sides and they was taking pictures. [Laughs] And they was all people I knew. My whole family was there. Their whole family. My bro's whole family. Everybody was there. It was overwhelming.
I was fresh out of a divorce at that time and was the first time I'd been out with a new lady. It was really uncomfortable! [Laughs] I was fresh out of a marriage, but I already got my rebound! [Laughs] I was really amazed with what was going on. We took pictures, we went in the movie, they played the movie. I heard people laughing, I heard people judging the movie, I was hearing all kinds of stuff. It was a great feeling for people to be appreciating our work. After the movie went off, they gave us a microphone and we went up front and just thanked everybody. And they gave us a standing ovation! |